Play Pits Family 3-Pack
$32.00
Regular price
$35.00
Our Family 3-Pack will include both KING and QUEEN, and 1 Play Pits Classic choice of (HAPPY, SONSHINE, SUGA) ... this is for the whole family! 
Each Pack includes both...
KING: Smooth, Intriguing and upscale blend of Bourbon and Sandalwood
QUEEN: Sweet and sultry fusion of Lemon, Rich Amber, and Jasmine.  
And you pick 1 Classic Scent
SUGA
 Infused with Lemon Essential Oil-

 acts as a detoxifying agent that nourishes, cleanses, and exfoliates your PITS. 

Infused with Grapefruit Essential Oil- 

help promote a sense of focus 

A Hint of Lemongrass Essential Oil-

promotes a positive outlook and heighten your awareness.
*It's the perfect dose of Suga without the cavities 
SONSHINE
Infused with a burst of Orange Essential Oil-which helps 

kill the bacteria (funk)
A hint of Peppermint Essential Oil- energy booster and mental focus
*The perfect combo to get your busybody fresh and confident. 
HAPPY
Infused by Lavender Essential Oil- helps keep eczema/ dry skin at bay because of its antifungal properties.
Lavender can increase the feelings of relaxation and calm
*Even on the dullest of days HAPPY can turn your frown upside down. 
How to apply: First Clean your PITS with soap and water, Then apply underarms and then use 2 fingers to work in until invisible.  (Remember work that Shea Butter and Coconut Oil in.)
 Ingredients: Shea Butter, Coconut Oil, Kaolin Clay, Candelilla Wax, Cornstarch, Baking Soda, Zinc Oxide, Vitamin E Oil, Play Pits Fragrance Blend, Apple Cider Vinegar. 
Customer Reviews
Write a Review
Ask a Question
09/29/2020
Morgan C.
United States
So far, so good!
We have been using Play Pits as a family for a few weeks now! It's early fall so it still gets hot and pretty warm most days. And, the deodorant holds up pretty well for all of us (Mom, Dad and 12 year old athletic son)! We have no issues and the deodorants smell great. My Husband says he loves them and the scent makes him feel like a King! He has been a faithful user of a commercial brand deodorant for years and sweats heavily and he was able to quickly and easily transition to the natural deodorant, without any concerns. I'm so glad we made a switch to Play Pits as a family! Once my other children need to start wearing deodorant, we will purchase from Play Pits!! Thank you! :)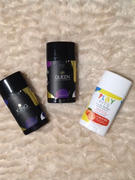 09/27/2020
Arrie M.
United States
You NEED this in your life!
I'm so happy I came across this brand. I can't imagine my boys, my husband, or myself using another product! The scents are amazing and we are fresh ALL DAY!
09/24/2020
Megan
United States
Smells amazing!
This is by far my favorite natural deodorant. I've tried so many and this one wins in every aspect. For one, it comes in a normal deodorant container- I've yet to find a natural brand that does and it's the simple things. Also, it smells like perfume, not in a strong or overpowering way but light and fresh. And it lasts allllllllll dayyyy!! I literally don't have to reapply it at all. THANK YOU Chantel and Kameron!
09/24/2020
Jennifer .
United States
Great product!
My family and I love the products. The kids and adult deodorant work and smell great.
09/23/2020
lauren W.
United States
Play Pits Family 3-Pack
Love it! It keeps mom, dad, and son smelling great! So glad we found a solution to our struggle of being naturally fresh as a family!